BIM Project Management software OpenProject 11.1 released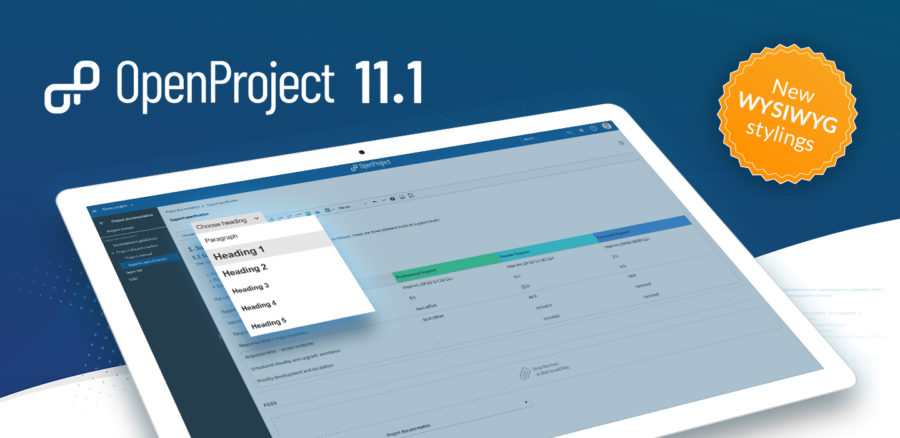 OpenProject 11.1 has recently been released. OpenProject is an open source and free web application for BIM project management.
It includes most typical features you might expect from project management services, like task management, milestone planning, gantt charts, team collaboration, and issue management. There are also additional features relevant to AEC including cost reporting, time tracking, and a shared project wiki. OpenProject supports a variety of project management ideologies, like kanban, agile and scrum. It is unique compared to other open source offerings in that it also has a BIM module. The BIM module allows you to view your model, and integrates with technologies like BCF.
As OpenProject is open source, you can host OpenProject yourself. However, OpenProject also provides paid cloud hosting services. It is possible to sign up online for a 14 day trial, so it is easy to get started and play with its features. Note that there are two separate sign up forms: one is for the general project management offering, and the other includes the BIM module.
The 11.1 release adds many new general project management features and fixes. A brief summary of the biggest improvements are below:
Improved WYSIWYG styles across the website
You can now see a summary of important milestones by collapsing the project gantt chart
Improved styling of mentioned users when editing text to make sure you tag the right user
You can now group work packages by attributes like priority, status, and assignee, and collapse groups in the viewer
Automatic signing of Data Processing Agreements (DPA) for easier GDPR compliance
Improved authentication with OpenID
Improved printing styles from the browser
There are 26 further small improvements and fixes detailed in the full release notes.
More reading: